On the Odd – Exploring the Mysteries of Mushrooms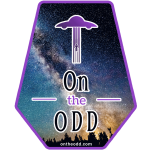 Exploring the Mysteries of Mushrooms
Mark welcomes Lawrence Millman to the show. Although we had a number of technical difficulties we got through it!
Lawrence Millman is a man of many talents. As an author, he has written 16 books and as a mycologist, he has studied fungi all over the world, but especially in his own backyard of New England. As an explorer, he has made over 40 trips and expeditions to the Arctic and Subarctic.
You can learn all about Lawrence here
You can purchase Lawrence's amazing books here
https://amazon.com/Lawrence-Millman/e/B00DP22EKO
Music intro: Go To Seed by Eamon Fogarty
Music outro: Drone 3 by Transit 161
https://eamonfogarty.bandcamp.com/track/go-to-seed
https://transit161.com/music
A special thank you to APS Mastering for their support.
Visit www.apsmastering.com for all of your Audio Mastering needs.