On the Odd – Vampires and The Goth Bible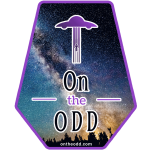 Mark welcomes Nancy Kilpatrick to the show.
Nancy Kilpatrick is an award-winning writer and editor. She has published 21 novels, 1 non-fiction book, over 220 short stories and 6 collections of her short fiction, comic books, a graphic novel, and she has edited 15 anthologies. Nancy has won several awards for her writing and continues to wow the dark fantasy, horror, mystery, erotic and scifi genres.
Nancy's website can be found here:

You can find Nancy's amazing books here:
https://amazon.com/Nancy-Kilpatrick/e/B000APBZWM
Music intro/outro: "The Black Crow" by Song:Ohia
A special thank you to APS Mastering for their support.
Visit www.apsmastering.com for all of your Audio Mastering needs.