On the Odd – Bigfoot in Pennsylvania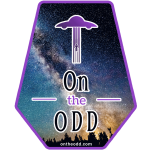 Mark welcomes Timothy Renner to the show.
Timothy Renner has written articles for several publications including Morbid Curiosity, Weird USA, and Weird Pennsylvania. His illustrations have appeared in comics, magazines, books, and on many record covers. He plays and sings folk music with his band Stone Breath. To date they have released twelve full length albums and multiple EPs. Timothy has studied various paranormal phenomena centered in South Central Pennsylvania – with a particular focus on the legend of Toad Road and the Seven Gates of Hell.
Timothy's website can be found here:
darkhollerarts.com
Seekerspa.blogspot.com
Strangefamiliars.com
You can find Timothy's amazing books here:
Beyond the Seventh Gate
Bigfoot in Pennsylvania
Bigfoot: West Coast Wild Men
Music intro/outro: "The Black Crow" by Song:Ohia
A special thank you to APS Mastering for their support.