On the Odd – UFO's of Canada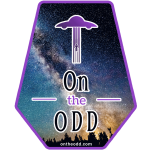 Michel M. Deschamps is a former MUFON member and former Provincial Section Director for Sudbury, Ontario, Canada. Since July 1974, he has had 27 separate UFO sightings, including two captured on video. He has appeared on numerous radio and television programs, featured in the press and He has contributed valuable information to researcher Jan Aldrich's Project 1947, which earned him an acknowledgment of his work in Jan's book, PROJECT 1947: A PRELIMINARY REPORT ON THE 1947 UFO SIGHTING WAVE.
Michel's website can be found here:
http://www.noufors.com/bio.html
You can buy Michel's amazing books here:
The Science of Spirit Possession
The Tao of Natural Cycles
Music intro/outro: "It's a Conspiracy" by Kerrin Connolly
Support Kerrin on Patron
https://www.patreon.com/kerrinconnolly/posts
A special thank you to APS Mastering for their support.
Visit www.apsmastering.com for all of your Audio Mastering needs.