On the Odd – The Spiritual Warrior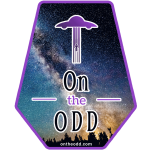 Mark welcomes Bill Bean to the show.
Bill Bean is a nationally known author and lecturer. He is an experiencer, victim, survivor and conqueror of evil. In his debut book Dark Force, he painfully describes in terrifying detail the events that tormented his family.
Bill's website can be found here:
http://billjbean.com
You can find Bill's amazing books here:
Dark Force – The Tragic Story of the Bean Family
The Connection – Life Transformation Through Yahweh
Music on this episode
Intro/Outro: "Fallow" by Timothy Renner
https://stonebreath.bandcamp.com/album/fallow
A special thank you to APS Mastering for their support.
Visit www.apsmastering.com for all of your Audio Mastering needs.