On the Odd – NDE's and Spiritual Awakenings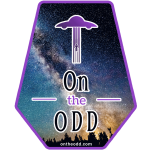 Mark welcomes Dr. Linda Salvin to the show.
Dr. Linda Salvin is a radio host veteran and metaphysician,who never expected to go down the path of a psychic but because of a series of devastating accidents it transformed her life. With each of these experiences, her spiritual connection to the Universe and her psychic gifts began to grow. Spiritual awakenings resulting from a plane crash, fire truck and another near-death experience with the white light caused her to seek out ways to integrate her education and experiences to assist others on a new holistic and metaphysical path.
Patti's website can be found here:

You can find Patti's amazing products here:
https://www.lindasalvin.com/shop
Music on this episode
INTRO/OUTRO
Artist: Thomas Van Stockum
Album: Trebuchet
Song: Oleana
https://tomvanstockum.com
A special thank you to APS Mastering for their support.
Visit www.apsmastering.com for all of your Audio Mastering needs.