On the Odd – The Road to Pascagoula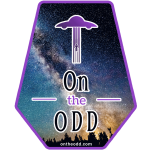 Mark welcomes Stefanos Panagiotakis to the show.
Stefanos Panagiotakis began his career as a Radio Officer in the Greek merchant navy in 1973 and retired in 1998. From 1979 to 1981 he became a member of the Greek UFO team "PHAETHON "and an independent reporter for the first Greek UFO magazine "ΙΠΤΑΜΕΝΟΙ ΔΙΣΚΟΙ / UFO "which published only 15 issues from April 1980. Later that year the UFO team "PHAETHON" became team "SIRIUS" and in March 1981 it published a new magazine entitled "ΑΣΤΡΙΚΗ ΕΠΑΦΗ / UFO". Stefanos Panagiotakis was appointed as a researcher & investigator of UFO cases outside of Greece.
Both the team "SIRIUS" and its associated magazine were active until April 1983. During this period Stefanos sent his reports from Mexico, Peru and of course his research from Pascagoula, which became a small book and was serialized in this UFO magazine in 6 parts. After his retirement, Stefanos worked on the adding of subtitles in Greek to more than 600 sci-fi films and similar TV series (mostly from the 50's, 60's and 70's). Today the author stills keeps himself informed of important events relating to the UFO phenomenon on a daily basis.
Patti's website can be found here:
andrewcollins.com
You can find Patti's amazing books here:
THE ROAD TO PASCAGOULA: A Research Trip – 1981
Music on this episode
Intro/Outro: "Brain on Snacks" from the EP, 'Same Kind of Woman' by Katy Rae
https://katyrea.bandcamp.com
Please Support On the Odd on Patreon!
Become a Patron!
A special thank you to APS Mastering for their support.
Visit www.apsmastering.com for all of your Audio Mastering needs.