On the Odd – The JFK Assassination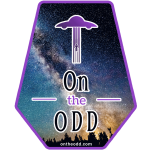 Mark welcomes Jim DiEugenio to the show.
Jim DiEugenio is researcher and author with a focus on the John F Kennedy assassination – his writings offer a detailed critical examination of the Warren Commission's evidence and conclusions, along with an analysis of the CIA's influence in Hollywood. He is also the co-author and editor of "The Assassinations: Probe Magazine on JFK, MLK, RFK and Malcolm X.
He co-edited Probe Magazine from 1993-2000 and was a guest commentator on the anniversary issue of the film "JFK" re-released by Warner Brothers in 2013.
He has a Masters Degree in American History from California State University Northridge and is also a specialist in the history and theory of cinema.
Jim DiEugenio's website can be found here:
Kennedysandking.com
You can find Jim DiEugenio's amazing books here:
Reclaiming Parkland
Destiny Betrayed
The Assassinations: Probe Magazine on JFK, MLK, RFK, and Malcolm X
Music intro/outro: "The Black Crow" by Song:Ohia
A special thank you to APS Mastering for their support.
Visit www.apsmastering.com for all of your Audio Mastering needs.