On the Odd – American Psychic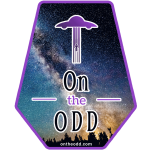 Mark welcomes Marla Frees to the show.
Marla Frees spent years as a successful TV and stage actress, and since devoting herself to her current work she has appeared as a psychic medium on A&E, Bravo, History Channel, SyFy, TV Land, and Gaia TV's "Beyond Belief with George Noory." Radio audiences have heard Marla on George Noory's "Coast-to-Coast," Lisa Garr's "Aware Show," and dozens of podcasts. Marla is a co-host of "Dreamland" on Unknowncountry. com and most recently she appears on YouTube teleconferences with physicist and author Tom Campbell, blending physics with metaphysics to understand the "science" of how Marla works, making the paranormal "normal." She appears in cities and towns across the country presenting "Messages with Marla" to small and large groups, educating people about their own intuition, connecting them with deceased loved ones, and potentially providing information about any aspect of their lives for their greatest good.
Marla's websites can be found here:
marlafrees.com
Americanpsychicbook.com
https://www.imdb.com/name/nm0293658/?ref_=fn_al_nm_1
You can find Marla's amazing books here:
American Psychic
Music intro/outro: "The Black Crow" by Song:Ohia
A special thank you to APS Mastering for their support.
Visit www.apsmastering.com for all of your Audio Mastering needs.