On the Odd – The History of UFO's and Alien Abductions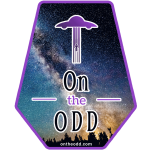 On the Odd
Season 8 Episode 6
The History of UFO's and Alien Abductions
Mark welcomes Preston Dennett to the show.
Preston Dennett began investigating UFOs and the paranormal in 1986 when he discovered that his family, friends and co-workers were having dramatic unexplained encounters. Since then, he has interviewed hundreds of witnesses and investigated a wide variety of paranormal phenomena. He is a field investigator for the Mutual UFO Network (MUFON), a ghost hunter, a paranormal researcher, and the author of thirteen books and more than 100 articles on on UFOs and the paranormal.
His articles have appeared in numerous magazines including Fate, Atlantis Rising, MUFON UFO Journal, Nexus, Paranormal Magazine, UFO magazine, Mysteries Magazine, Ufologist and others. His writing has been translated into several different languages, and he's appeared on numerous radio and television programs. Additionally, Dennett has taught classes on various paranormal subjects, and lectures across the United States.
Preston Dennett's website can be found here:
https://prestondennett.weebly.com/
His amazing books can be found here:
https://prestondennett.weebly.com/books.html
Music intro: "Twin Flame" by Lenore Lenoire
Music outro: "Won't Open My Eyes" by Lenore Lenoire
http://lenorelenoire.bandcamp.com/album/seven-years
A special thank you to APS Mastering for their support.
Visit www.apsmastering.com for all of your Audio Mastering needs.