On the Odd – A Conversation with a Demon Seer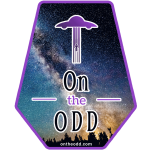 On the Odd
Season 8 Episode 5
A Conversation with a Demon Seer
Mark had the pleasure of having June Lundgren come onto the show.  This was a remarkable and sometimes frightening discussion.
June Lundgren is a psychic-medium, animal communicator, healer, professional nurse, demon seer and international author. She comes from a long line of psychic women. Mentored by her maternal grandmother, June learned at an early age how to use her gifts of mediumship, ability to see negative entities and look into the future to help others.
June Lundgren's website can be found here:

Her amazing books can be found here:

Music intro: Ice Land by Moon Casale
Music outro: Love Ghost by Gray Romantic
https://theshivers.bandcamp.com/album/moon-casale
https://www.facebook.com/theshiversmusic
A special thank you to APS Mastering for their support.
Visit www.apsmastering.com for all of your Audio Mastering needs.