On the Odd – Prophecy from the Stars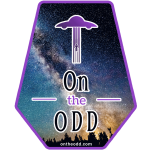 Ann Eller, who worked with Dr. J. Allen Hynek, the Father of UFO-Alien research, has a unique perspective on the UFO enigma. Her fascinating story also revisits her days in the White House during the Clinton administration, as a medevac nurse for the Peace Corps, and her exceptional encounters with other-worldly beings.
An incredible contact experience in Laramie, Wyoming left Ann with a message to tell the world. Ann clearly and powerfully articulates what mankind must do in the coming days to live consciously. In her book, Dragon in the Sky; Prophecy from the Stars, Ann challenges our assumptions about our daily life, warns us about what is on the very near horizon and stresses the need for dramatically improving the quality of our relationships to each other and to the Divine. She shares her wisdom filled with inspiration, humor, and spiritual insight.
Ann's website can be found here:
http://dragoninthesky.com
You can find Ann's amazing book here:
Dragon in the Sky: Prophecy from the Sky
Music on this episode
Intro/Outro: "10 Years Later" by Mates of State
https://www.barsuk.com/artists/matesofstate
A special thank you to APS Mastering for their support.
Visit www.apsmastering.com for all of your Audio Mastering needs.