On the Odd – Occult of Personality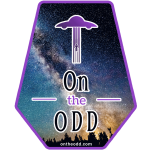 Mark welcomes Greg Kaminsky to the show.
Greg Kaminsky's podcast and website, Occult of Personality has a focus on authenticity, accuracy, and quality, Occult of Personality peers behind the veil to provide recorded interviews with serious esoteric practitioners, scholars, and teachers from all over the world. Established in 2006, the podcast reaches several thousand listeners each month and has been noted for the quality and depth of interviews.