On the Odd – Historic Long Island EVP's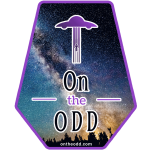 Mark welcomes Joe Giaquinto to the show.
By day, Joe Giaquinto is a computer guy—at night and on weekends, he is a psychic-medium and ghost hunter. He has experienced otherworldly phenomena in and around New York City and Long Island for over thirty-five years.
His first official ghostly encounter occurred in upstate New York, when he unknowingly moved into a haunted boarding house. Over the years that followed and his many encounters with the paranormal, he discovered the gift of mediumship and used this ability to enhance the quality of evidence gathered during paranormal investigations.
Patti's website can be found here:
http://joegmediumpi.com/
You can find Patti's amazing books here:
Historic Haunts of Long Island
GHOSTS OF LONG ISLAND
GHOSTS OF LONG ISLAND II
Music intro/outro: "Holland, 1945" by Neutral Milk Hotel
https://walkingwallofwords.com/
A special thank you to APS Mastering for their support.
Visit www.apsmastering.com for all of your Audio Mastering needs.