On the Odd – Haunted Hollywood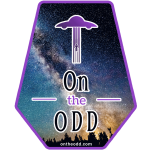 Mark welcomes Patti Negri to the show.
Patti Negri is a psychic medium and a practising witch but is also a tv personality as well as contributer to over 20 best selling books. She has received several awards for her work as well as graced 6 magazine covers such as American Psychic & Medium, UFO and the SUpernatural and Parapsychology & Mind Power
Patti's website can be found here:
Music intro/outro: "Won't Open My Eyes" by Lenore Lenoire
http://lenorelenoire.bandcamp.com/album/seven-years
A special thank you to APS Mastering for their support.
Visit www.apsmastering.com for all of your Audio Mastering needs.