On the Odd – Exorcisms and Energy Healing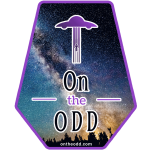 Mark welcomes Christine Corda to the show.
Christine Corda is a Psychic Medium Empath, Clairvoyant, Clairaudient, Energy worker , Psychic paranormal Investigator and Reiki Practitioner. She has over 20 years of experience and is considered one of the best and most sensitive psychics in her field. She has hands on experience with not only the dark arts but also a catholic exorcism. Please welcome to the show….Christine Corda
Christine Corda's website can be found here:
Christine Corda
Music intro/outro: "The Black Crow" by Song:Ohia
A special thank you to APS Mastering for their support.
Visit www.apsmastering.com for all of your Audio Mastering needs.