On the Odd – Watch Out for the Hallway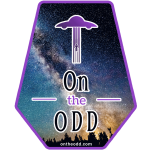 Mark welcomes Tonya Madia and Joey Madia to the show.
When he is not investigating strange phenomena, Joey Madia is an award-winning screenwriter, audio dramatist, playwright, novelist, actor, and director. He is the author of four books on using theater in the classroom and is working on a fifth book, Every Day is a Story All its Own, about the art, craft, and importance of telling our stories. His award-winning poetry, nonfiction essays, and short stories have been widely published. He is the author of two novels: Jester-Knight and Minor Confessions of an Angel Falling Upward
Tonya Madia is a Licensed Massage and Bodywork Therapist, Registered Yoga Teacher, Reiki Master Teacher and doTerra Wellness Advocate. She is a graduate of the prestigious Pittsburgh School of Massage Therapy and has seen first hand how regular bodywork can create a fundamental positive shift in one's health and quality of life. She works with each of her clients to individually tailor sessions that bring body and mind into balance. A student of the human energy system and energy healing for 14 years, she was originally schooled in Pranic Energy Healing in 2000 and received her Level 3 Reiki Certification in 2009.
Their websites can be found here:
http://www.joeymadia.com/
http://www.tonyamadia.com/
You can find their amazing books here:
Books by Joey Madia
Books by Tonya Madia
Music intro: Minimus The Poet "Empathy"
Music outro: Minimus The Poet "Lightning Rod"
https://minimusthepoet.bandcamp.com
https://www.facebook.com/minimusthepoet
A special thank you to APS Mastering for their support.