On the Odd – The JFK Assassination Update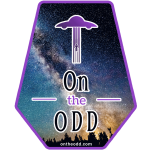 Mark welcomes Larry Hancock to the show.
Larry Hancock brings his formal training in history and cultural anthropology to his research and writing on Cold War history and national security subjects. Larry was also in the United States Air Force where he tuned his skills and focused his career in computer/communications and technology marketing.
Larry's website can be found here:
http://www.larry-hancock.com/
You can buy Larry's amazing books here:
Music intro/Outro: "Sunrise" by Cindy Wilson
https://cindywilson.bandcamp.com/album/sunrise-ep
A special thank you to APS Mastering for their support.
Visit www.apsmastering.com for all of your Audio Mastering needs.