On the Odd – The Ghost Studies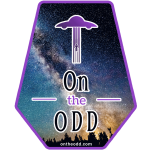 Mark welcomes Brandon Massullo to the show.
Brandon Massullo is a clinical therapist and parapsychologist residing in Medina, Ohio. Fascinated by paranormal phenomena for more than 20 years, Massullo has been a participant in and featured speaker at numerous paranormal forums and events. He studied psychology and parapsychology at the University of Edinburgh in Scotland. His research has been cited in many parapsychological ?journals, articles, and mainstream books.
Brandon Massullo's website can be found here:
Hauntedtheories.com
You can find Brandon Massullo's amazing book here:
The Ghost Studies
Music intro: Minimus The Poet "Empathy"
Music outro: Minimus The Poet "Lightning Rod"
https://minimusthepoet.bandcamp.com
https://www.facebook.com/minimusthepoet
A special thank you to APS Mastering for their support.
Visit www.apsmastering.com for all of your Audio Mastering needs.