On the Odd – The Bye Bye Man and Other True Tales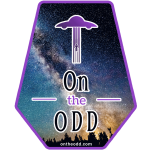 Mark welcomes Robert Damon Schneck to the show.
Robert Damon Schneck is a freelance writer and contributor to Fortean Times, Fate, and other magazines. Friends describe him as a "loveable, nocturnal, monomaniac."
Robert's web presence can be found here:
https://www.facebook.com/historianofthestrange/?ref=page_internal
You can find Robert's amazing books here:
Music intro/outro: "Won't Open My Eyes" by Lenore Lenoire
http://lenorelenoire.bandcamp.com/album/seven-years
A special thank you to APS Mastering for their support.
Visit www.apsmastering.com for all of your Audio Mastering needs.