On the Odd – Sorcery, Black Magic and Miracles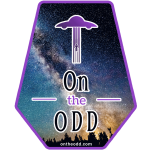 Mark welcomes Sonia Brosz to the show.
Sonia Brosz is a Maronite Catholic, Charismatic, a visionary and spiritual warrior called many ago to service in the field of exorcism and deliverance. She is an expert in metaphysics, witchcraft, magic and sorcery of all cultures and religions of the world. Sonia has been an active consultant and advisor to exorcists of the Catholic Church, as well as deliverance pastors and ministers of all faiths for over thirty years.
Sonia's website can be found here:

You can find Sonia's amazing books here:
https://amazon.com/gp/product/1537261282
Music intro: Minimus The Poet "Empathy"
Music outro: Minimus The Poet "Lightning Rod"
https://minimusthepoet.bandcamp.com
https://www.facebook.com/minimusthepoet