On the Odd – Photographing Spirits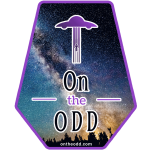 Mark welcomes Shannon Taggart to the show.
Shannon Taggart is a photographer based in Brooklyn, New York whose work blurs the line between art, anthropology and the paranormal. Her photographs have been exhibited and featured internationally, including within the publications TIME, New York Times Magazine, Discover, and Newsweek. She was also a Scholar and Artist-in-Residence at the Morbid Anatomy Museum in New York.
Shannon's website can be found here:
http://www.shannontaggart.com/
You can find Shannon's on Twitter here:
Music intro: Minimus The Poet "Empathy"
Music outro: Minimus The Poet "Lightning Rod"
https://minimusthepoet.bandcamp.com
https://www.facebook.com/minimusthepoet
A special thank you to APS Mastering for their support.
Visit www.apsmastering.com for all of your Audio Mastering needs.