On the Odd – Mothman, UFOs and Earth Changes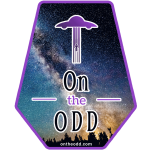 Mothman, UFOs and Earth Changes
Mark welcomes Diane Tessman to the show.
Diane Tessman is an author and channeler who has spent several years chasing UFOs and investigating paranormal events and encounters with "the beyond." as well as working with MUFON and the acclaimed APRO (Aerial Phenomenon Research Organization).
Diane Tessman's website can be found here:
http://earthchangepredictions.com
You can buy Diane's amazing books here:
https://amazon.com/Diane-Tessman/e/B00IRB2N0Y
Music intro: The Way I Love You by Joel Michael Howard
Music outro: Don't Know Why by Joel Michael Howard
https://joelmichaelhoward.bandcamp.com/
A special thank you to APS Mastering for their support.
Visit www.apsmastering.com for all of your Audio Mastering needs.