On the Odd – Controlled Remote Viewing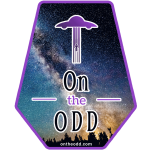 Mark welcomes Lori Williams to the show.
Lori Williams is a professional Controlled Remote Viewer (CRV), an experienced instructor of CRV and a certified hypnotherapist. Ms. Williams has been researching, practicing and studying the science of Controlled Remote Viewing (CRV) since 1996. Highly respected among both students and peers as an expert in the field of Remote Viewing, Lori Williams is considered by many to be one of the best and most experienced Remote Viewing instructors available today. She has taught CEO's of major corporations, #1 New York Times best-selling authors, celebrities, and hundreds of everyday people. She is currently the only certified instructor teaching beyond the Advanced Levels of CRV.
A professional remote viewer herself, Lori's experience includes assisting law enforcement in missing person cases, conducting professional sessions for corporations, working on archeological mysteries, providing personal Life Path Sessions for individuals, and a broad range of other topics. She has worked with many individuals and companies in several countries. An accomplished public speaker and presenter, Lori has presented many workshops on remote viewing. Lori Williams' Remote Viewing company, now known as Intuitive Specialists, opened in 1999.
Lori's website can be found here:
https://intuitivespecialists.com/
You can find Patti's amazing books here:
The Cygnus Key
From the Ashes of Angels
Music on this episode
Intro/Outro
"Sunrise" by Cindy Wilson
https://cindywilson.bandcamp.com/releases
Please Support On the Odd on Patreon!
Become a Patron!
A special thank you to APS Mastering for their support.
Visit www.apsmastering.com for all of your Audio Mastering needs.