On the Odd – An Interview with East TN Ghost Seekers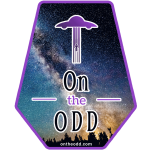 On the Odd
Season 8 Episode 12
On the Odd – An Interview with East TN Ghost Seekers
Mark is honored to have the East TN Ghost Seekers on the show today. East TN Ghost Seekers is comprised of
Founder/ Lead Investigator- Stephen Wiseman
Lead Investigator- Stephen Brown
Investigator- Andrea Brown
Investigator- Jessie Armes
We discuss their personal accounts as well as hand-on experience that only a paranormal investigator may come across. East TN Ghost Seekers are also welcoming people to join them on an investigation at the Hales Bar Dam – you can find more info about that on their main webpage!
Check them out on Facebook
https://www.facebook.com/easttnghostseekers
They have main page if you would like to reach out to them
https://www.easttnghostseekers.org
They have a really awesome podcast too! Subscribe to Para-Talk and let them know On the Odd sent you!
https://etgs.podbean.com
Music intro and Outro:"Thou Dusky Spirit of the Wood" by Tissø Lake
https://tissolake.bandcamp.com
A special thank you to APS Mastering for their support.
Visit www.apsmastering.com for all of your Audio Mastering needs.