On the Odd – More Than Ghosts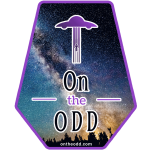 Mark welcomes Alex Matsuo to the show.
Alex Matsuo is an actor, singer, dramaturg, director, photographer, playwright and paranormal investigator/researcher.  She earned her Master of Arts in Theatre Arts from San Diego State University in May 2011. If you asked her what she focused on the most you will find that the spectrum is very broad. 
Alex's website can be found here:
You can find Alex's amazing books here:

Please Support On the Odd on Patreon!