On the Odd – Mind Control & Montauk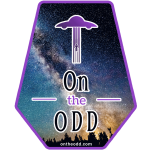 Mark welcomes Peter Moon to the show.
Born and raised in California, Peter Moon is primarily known for his investigation of space-time projects. These concern projects in the past, present and future that control both time and perception of time. An avid reader as a young man, he studied creative writing and literature and was particularly interested in both the scientific extrapolations of science fiction as well as the high adventure that it provided.
Peter went out on his own in 1983 and moved to Long Island where his unique background enabled him to forge an association with scientist Preston Nichols, one of the world's foremost experts in the world on electromagnetic phenomena who had been involved in strange experiments at the Montauk Air Force Station on Long Island which included the manipulation of time. Their collaboration in writing "The Montauk Project: Experiments in Time" and its subsequent sequels have now reached legendary proportions.
Peter's website can be found here:
https://www.timetraveleducationcenter.com