On the Odd – Lycandroids, SuperSoldiers and the Freedom War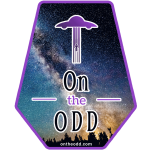 Mark welcomes Robert D. Miles to the show.
Robert D. Miles is an author, screenwriter, and has worked as a producer and executive producer over the past forty-five years. He has produced and written a DVD series called Fastwalkers: Open Files. This series features numerous interviews with the most highly respected UFO and extraterrestrial researchers, abductees, and contactees in the entire world.
Robert's website can be found here:
fastwalkers.com
timestreampictures.com
You can find Robert's amazing books here:
Safespace
Lycandroids, SuperSoldiers and the Freedom War