On the Odd – Dreams That Can Save Your Life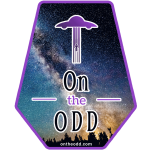 Mark welcomes Larry Burk to the show.
Larry Burk, M.D., C.E.H.P., President of Healing Imager, PC, specializes in teleradiology, Emotional Freedom Technique (EFT), hypnosis, and dreamwork. He attended medical school and residency training at the University of Pittsburgh and later trained in acupuncture and hypnosis, becoming a Certified Energy Health Practitioner.
Larry's website can be found here:
http://www.letmagichappen.com
http://larryburkmd.com
You can find Larry's amazing books here:
Let Magic Happen
Dreams That Can Save Your Life
Please Support On the Odd on Patreon!
Become a Patron!