On the Odd – Demons, the Devil, and Fallen Angels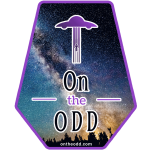 Mark welcomes Marie D. Jones to the show.
Marie D. Jones is a best-selling author of non-fiction and fiction, and a screenwriter/producer with her own company, Where's Lucy? Productions. She has appeared on television and on radio all over the world, and has hundreds of credits writing for magazines, guest blogs, reviews, short stories, online articles and gift books. She has lectured widely on the paranormal, unknown anomalies, cutting edge science, metaphysics and human consciousness.
Marie's website can be found here:
http://www.mariedjones.com
http://whereslucyproductions.com
You can find Marie's amazing books here: