On The Odd Podcast Episode 8 – Can Ghosts Move Things?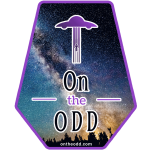 On The Odd -Can Ghosts Move Things?
Season 2 Episode 8
Listen
Download
Stitcher
*NEW* PodGallery
Subscribe
Types of hauntings. Can ghosts move things? Alex shares two firsthand accounts and Mark describes an occurrence that coincides with the Japanese horror hotel episode.
Time Life Mysteries of the Unknown series. A friend's story about opening the book up and saw a UFO account from the exact day and year he was born as well as the exact town where he was born.
Please take a moment to visit these On the Odd hangouts
Facebook
Reddit