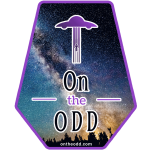 Please Support On the Odd on Paypal!
Mark welcomes Paul Eno to the show.
Paul Eno is one of the first investigators of the early 1970s, beginning while he was studying for the priesthood. His early mentors included parapsychology pioneer Dr. Louisa Rhine, Fr. John J. Nicola S.J. (technical advisor for the film The Exorcist) and legendary, first-generation "ghost hunters" Ed & Lorraine Warren. Paul graduated from two seminaries but was expelled from the graduate-level theology program at a third, because of his paranormal work, with less than two years to go before ordination. He ended up as an award-winning New England journalist and the author or co-author of 10 books on the paranormal and two on history.
Paul has appeared on the History, Discovery and Travel Channels, and he and his son and "partner in the paranormal," Ben Eno, have lectured all over America and in Europe. The two host a weekly radio show, now in its 11th year on the air, "Behind the Paranormal with Paul & Ben Eno," on WOON 1240 in the Boston/Worcester/Providence market. The show aired on CBS Radio in four U.S. cities from 2009-2014.
Paul's website can be found here:
You can find Paul's amazing books here:
Please Support On the Odd on Paypal!