Florida's Haunted Hospitality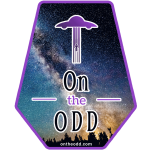 Please Support On the Odd on Patreon!
Mark speaks with author, Michelle Davidson.

Michelle Davidson is a professional artist and writer who has been investigating the paranormal since 2007. She works out of the country's most haunted and historic town, St. Augustine, Florida. Michelle uses her psychic intuition in life and death's constant journey.
You can more info about Michelle here:
You can find Michelle's amazing book here:
Music on this episode
Intro/outro:  
Song: Oleana 
Artist:  Thomas Van Stockum
Album: Trebuchet
https://tomvanstockum.com
Please Support On the Odd on Patreon!

A special thank you to APS Mastering for their support.
Visit www.apsmastering.com for all of your Audio Mastering needs.