Episode 70 – Reclusive Celebrities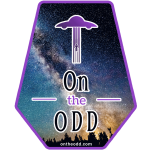 Season 6 Episode 10
[display_podcast]
Reclusive Celebrities
Time Magazine published a somewhat inaccurate listing of what their editors termed "reclusive celebrities." Join Alex Saltz and guest David Lawler from BlissVille – http://www.blissville.net – and Extreme Cinema – http://www.blissville.net – as they discuss and disseminate the strange assortment of names, ranging from Syd Barrett to Marcel Proust.
Music intro: "Peace Spectrum" by Alex Saltz
Music outro: "Licht Vektoren" by Alex Saltz
A special thank you to APS Mastering for their support.
Visit www.apsmastering.com for all of your Audio Mastering needs.
Please take a moment to visit these On the Odd hangouts
Facebook
Reddit