Episode 65 – Messages From Beyond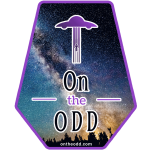 Season 6 Episode 5
[display_podcast]
Mark and Alex touch on messages from beyond, the quandary of time, haunted objects and the world's hottest chili peppers.
Time
https://en.wikipedia.org/wiki/Time
Paranormal and Occult Museum
World's Hottest Pepper Seeds
http://www.aliexpress.com/item/240-Pcs-WORLDS-HOTTEST-Pepper-Seeds-8-Worlds-Hottest-Pepper-RARE-Chili-Pepper-Seeds/32315162511.html
White Castle 1925 Lynbook, NY
http://www.lynbrookpba.org/images/lirr-white-castle.jpg
Music intro: "Bug" by Apeman
Music outro: "Burner" by Apeman
www.apemaan.bandcamp.com
https://www.facebook.com/ApemanMan
A special thank you to APS Mastering for their support.
Visit www.apsmastering.com for all of your Audio Mastering needs.
Please take a moment to visit these On the Odd hangouts
Facebook
Reddit